China Cloud Accounting and Tax Compliance Services cn4ww
Email: headquarter@evershinecpa.com

or
Manager Kerry Chen, USA Graduate School Alumni & a well-English Speaker
Mobile phone: +886-939-357-000
Skype: oklahomekerry
Service  Coverage:
Payroll Cycle — Leave Application, Shifting Schedule, Payroll Calculation, Insurance, Pension Fund, Pay Slip Provision
Expenditure Cycle — Expenses: Employee, Office & Travel
Receiving Cycle — From Order to Cash
Payment Cycle — Purchases to Payment
General Ledger — Records to Report
VAT Filing
Cost Accounting
China Major Cities  we can serve you:
-> BeijingOnlineAccounting      -> ShanghaiOnlineAccounting
-> XiamenOnlineAccounting      -> TaipeiOnlineAccounting
->HangzhouOnlineAccounting   ->NanjingOnlineAccounting
->Other Services in China
Since we use Online Payroll Management System to serve our clients, our service locations are not limited. We can serve you in any major cities of greater China.
Once assigned, we will arrange our 100% affiliated subsidiaries and co-service partner to serve you
Who we are:
A member of International Accounting Association (IAPA: www.iapa.net) and Leading Edge Alliance (LEA: www.leadingedgealliance.com).
ADP Employer Services International provides multi-country payroll outsourcing services through ADP Streamline®.
Evershine CPAs Firm is a local partner of ADP Streamline® in Taiwan.www.adp.com/streamline
The features services we has been  providing:
We will act as your in-house accountant using web-platform system to create a collaborative working environment.
Evershine staff don't need to sit in your office but act as your own accountants.
We use a web-platform in servicing our clients .
We undertake four functions including Accounting & Tax, Finance & Online Bank account creation, Payroll Compliance, and Cloud System Provision.
No need for you to fill your Accounting, Finance, Payroll and IT Departments in your WFOE in China.
Fraud-proof, Seamless collaboration, Hassle-free are some of our service features.
Your company's CFO or any assigned personnel can approve payment request/s and do the money transfer through online banking anytime, anywhere!
Location of our current 650 clients (2017/04/08)
Evershine has its 100% owned office to provide you services in below cities:
Taipei, Beijing, Shanghai, Xiamen, Hangzhou
We have been providing our services with our co-service partners in different locations:
China Fukien: Fuzhou( 福州), Putian (莆田), Quanzhou(漳州), Changzhou(漳州), Pingtan (平潭);
China: Nanjing(南京), Guangzhou(廣州), Shenzhen(深圳), Dongguan(東莞) , Suzhou(蘇州), Kunshan (昆山), Tianjin (天津), Qingdao(青島)
Other locations:
Japan (Tokyo), Korea (Seoul), Hong Kong,,Malaysia (Kuala Lumpur),Singapore, Bangkok, Jakarta, Manila,  India (New Delhi);USA (San Francisco CA)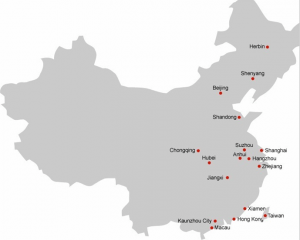 Location of our clients' parents companies
USA, Canada, U.K., France, Germany, Iceland, Netherlands, Italy, India,  Dubai, Thailand, Singapore, Hong Kong, Taiwan, China, Korea, Japan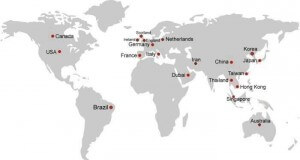 Samples of  Parent Companies:
Faiveley from France www.faiveley.com
Centrotherm from Germany www.centrotherm.de
de Laperla from Italy www.laperla.com
YP Chemical in China from Taiwan www.yingpengchemical.com
Cave Gontero from Italy www.cavegontero.com
RBC Life Sciences from Texas, USA www.rbclife.com
BRI Asia from North Carolina, USA www.briworldwide.com
Erec Group from Singapore
Royal Canin from France www.royalcanin.com
Titoma from Netherlands www.titoma.net
Tyco from USA www.tyco.com
Altasens from Silicon Valley, USA www.altasens.com
Tessera From silicon Valley, USA www.tessera.com
Gardener Denver From Denver, USA www.gardnerdenver.com
Yellow Mountain from USA Seattle www.yellow-mountain.net
China Trust Bank Shanghai Branch from Taiwan www.chinatrust.com.tw
sales.taiwan@evershinecpa.com Taiwan Area
sales.xiamen@evershinecpa.com Xiamen
sales.beijing@evershinecpa.com Beijing
sales.shanghai@evershinecpa.com Shanghai
Sales.Nanjing@evershinecpa.com Nanjing
Sales.Hangzhou@evershinecpa.com Hangzhou
Headquarter@evershinecpa.com Cities in other areas of China
Additional information
We can arrange co-serving partners for other locations not mentioned above, please click the links to find out more: IAPA Members and LEA Members.
There are many Evershine CPAs Firm associates around the world.
We have around 980 firms with 38,000 employees in about 450 cities.
If your firms are located in the above-mentioned cities, we can serve you right away.
Please send email to headquarter@evershinecpa.com